Just like every tourist seeking adventure in a Moroccan Saraha, I'm pretty sure that you're confused between standard OR Luxury Morocco Desert Camp.
When traveling to Morocco, visiting the desert is a must if you want to actually live an experience that goes beyond expectations.
What you need to know first is that there are many Erg in the Moroccan Sahara but when it comes to spending time in one of these deserts, Erg Chebbi and Chigaga are the most known and most visited.
keep in mind that Erg is the name given to the large sand dunes.
Erg Chebbi:
Erg Chebbi is situated in the southeast of Morocco, about forty kilometers away from Erfoud. Due to their proximity to the village of Merzouga, the dunes are often called the Merzouga Dunes, rather than Erg Chebbi.
Erg Chebbi are known as one of the most attractions for travelers, due to their impressive height and size, and they are easily accessible.
Erg Chegaga:
Erg Chegaga is located about 500 km from Marrakech, 310 km from Ouarzazate, and just 45 km from the village of Mhamid. It is known as the wildest desert in Morocco and requires several hours of off-road driving to reach the camp.
After the Erg Chebbi dunes, Chegaga is a popular Morocco destination for adventurous travelers looking to explore the Sahara desert in Morocco.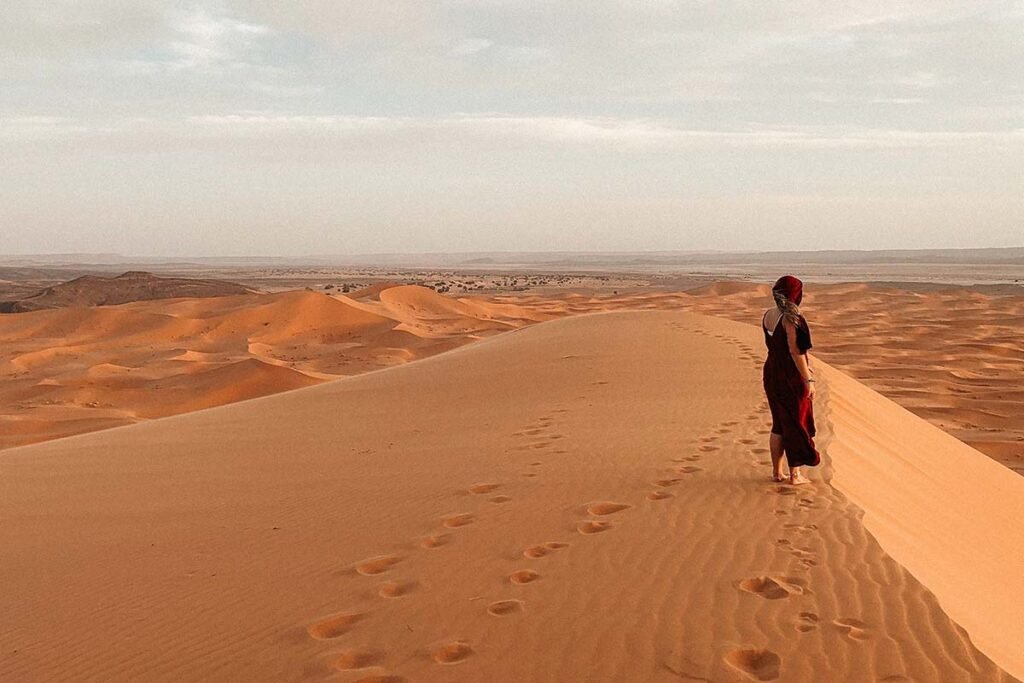 Standard or luxury Morocco desert Camp?
Now that we've got to discover the deserts of Morocco, Shall we proceed to the main Question of this blog?
"What are the differences between standard and luxury Morocco desert camping?"
In Morocco, there are camps for every budget, from affordable yet authentic to luxury tents.
In this blog, we will provide you with essential information that will help you to choose where to set off on your thrilling Moroccan desert adventure.
A comparison between standard and luxury Morocco desert camp
Accommodation features:
The first thing you need to know about Standard camps in deserts is that they are designed for short stays, with basic dining setups like dining tents or campfires where meals are served. However, running water is scarce, and bathroom facilities, including showers, are shared among the guests. Speaking of guests, in standard camps, you'll find larger shared spaces where other guests ( tourists), who usually stay in local hotels, come to spend a night in the desert.
In addition to all of that, Standard camps are often closely situated to one another, which means you can easily hear the noise or music from neighboring camps.
Let me add that many travelers choose to sleep outside because the tents in a standard camp are typically made of black wool, so they can become so hot, especially during warmer months.
On the other hand, the luxury Morocco desert camp offers various relaxing spots near the camp for you to unwind and enjoy. These camps are usually impressive and attractive to tourists, due to their larger tents designed with private bathrooms and showers, (meaning your tent will have a toilet, sink, and shower right inside of it). They also have dining restaurants, some might even have a kitchen on the property.
Food and dining in a Standard OR Luxury Morocco Desert Camps :
Food usually differs from one camp to another, whether it's a standard or luxurious desert camp; in other words, you can stay in a standard camp and still get offered perfect meals. However, it's known that luxury camps offer well-presented dishes with a wider variety.
Common activities and entertainment:
Activities that offer standard Desert camps are usually sandboarding and camel riding which usually starts shortly before sunset, around 5:30 p.m. However, the exact timing may vary depending on the season and could potentially begin later. While luxury camps include camel riding, sandboarding, Driving Quad & Buggy, and 4×4 WD tours on the desert dunes and more.
Pricing:
Standard camps offer excellent affordability, with an average price of €40 per person per night and it includes a camel trek, overnight stay in a tent, as well as breakfast and dinner, while luxury desert camps are a bit expensive due to all the activities and services they offer. They can cost an average of €200 per person per night.
Conclusion
Whether you're looking for budget-friendly exploration or desire to indulge in luxury, Morocco's desert camps accommodate the diverse preferences of every adventurer. No matter what option you choose, the breathtaking landscapes and warm hospitality of the desert will create lifelong memories.
NOW if you want to experience the BEST Sahara Desert Tours! Our team will guide you through Morocco, and its vibrant majestic mountains, and vast Desert Dunes. Together we'll explore the authentic local life and ancient traditions, prioritizing your safety and privacy at all times.
You're one step away, hurry up and contact Sahara Holiday Tours, and let us show you the best Sahara Desert Tours!